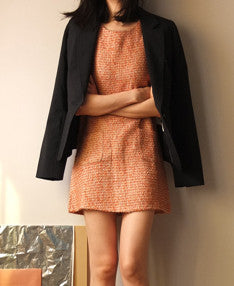 $0.00 USD
Suffolk dress-sold out
Details
Handmade in-house, this gorgeous sleeveless slim-fitting shift dress features two patch pockets on the front,concealed zipper closure on the back. Lined. Length hits mid-thigh.
Color/Couleur:Sherbert Orange
Material/Composition:100% tweed
Size/Taille:Petit,true-to-size fit

Measurement (*=Point-to-point measurement)

Shoulder/Épaule: 31cm (*)
Bust/Tour de poitrine:fits 33" bust
Waist/ Tour de taille:fits 24"-26" waist
Hip/Bassin:fits 34" hip
Armhole opening width:19cm
Length/Longueur:72cm


Model size/ Taille de mannequin:163cm/46kg

Care instructions/Entretien:
Dry-clean only.