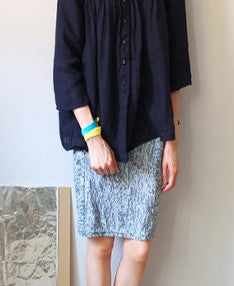 $0.00 USD
Soltina skirt-sold out
Details
Straight-fit skirt with grungy leopard print. Side seams, pockets on both sides. Slouchy fit.

Color/Couleur: rusty blue
Material/Composition:Cotton/spandex,fabric carries a hint of stretch
Size/Taille:one size only, fits true-to-size

Measurement (*=Point-to-point measurement)

Waist/ Tour de taille:25"-26"
Hip/Bassin:33"-34"
Length/Longueur:42cm


Model size/ Taille de mannequin:163cm/47kg.

Care instructions/Entretien:
Handwash only. Do not tumble dry. Do not soak.