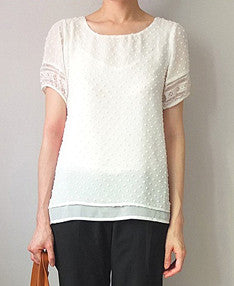 $0.00 USD
Marais blouse-sold out
Details
Cute blouse with layered hem.Dobby spotted.Dainty lace trim on sleeves.Light and airy. Slip-on style.Camisole is not included in the purchase. Made-to-order. In-house production.
Color/Couleur:White+Ecru(sleeves)
Material/Composition:100% polyester
Size/Taille:One size only. True-to-size fit.

Measurement (*=Point-to-point measurement)

Shoulder/Épaule: 34cm (*)
Bust/Tour de poitrine:37cm (*)
Waist/ Tour de taille:fits up to 26.5"
Sleeves/Manche:20cm
Length/Longueur:54cm-58cm


Model size/ Taille de mannequin:163cm/47kg

Care instructions/Entretien:
Handwash only. Do not soak.