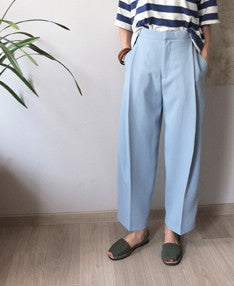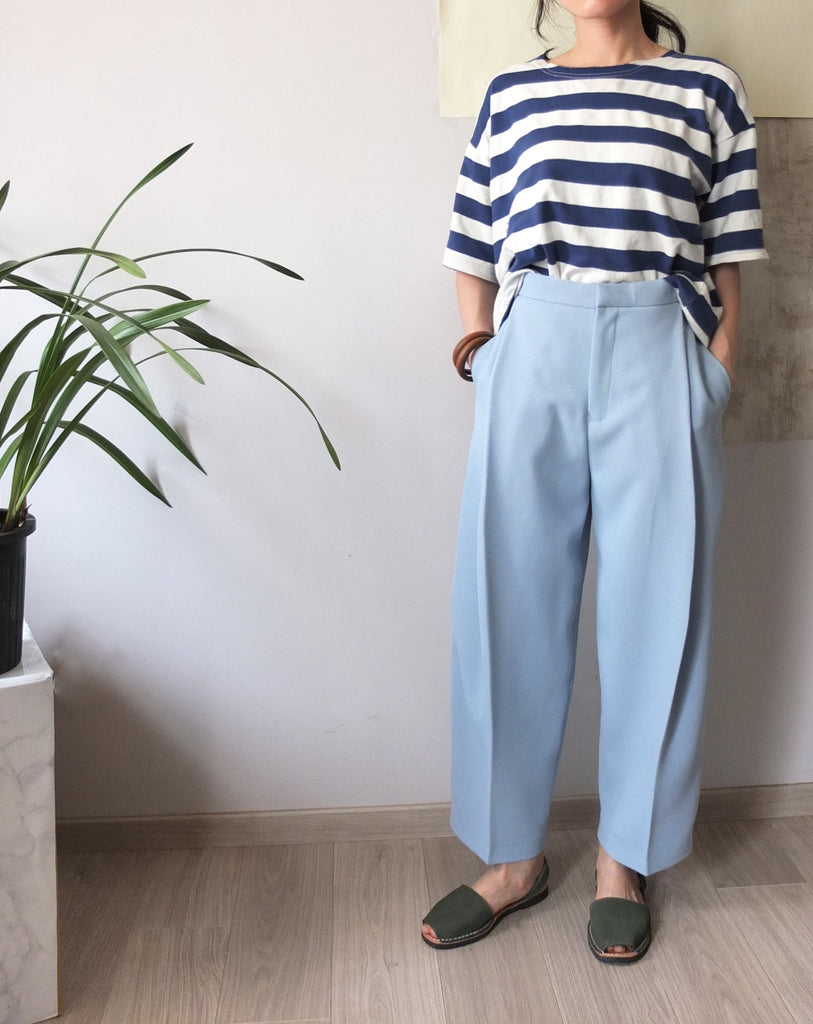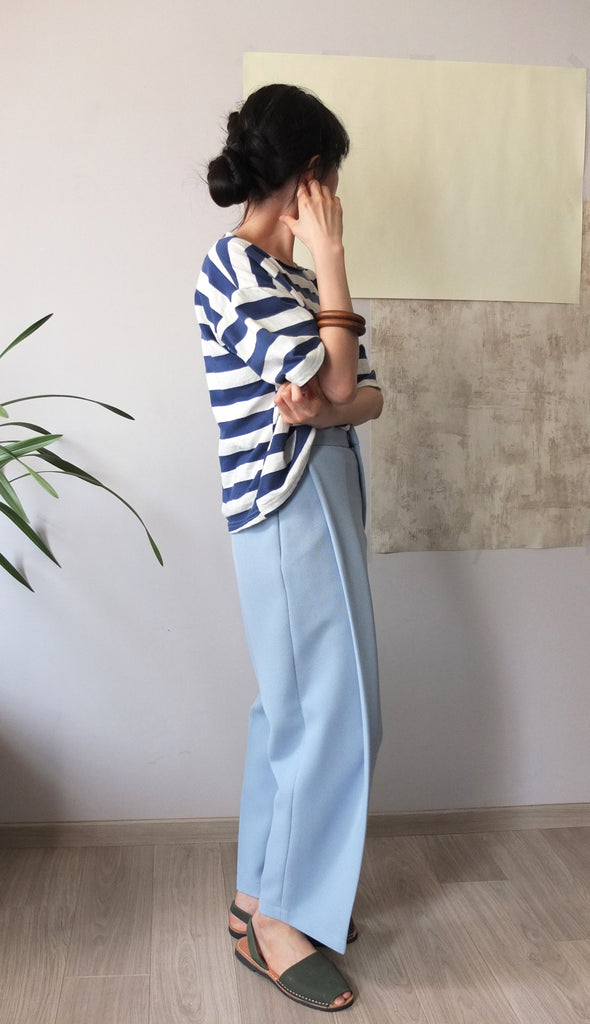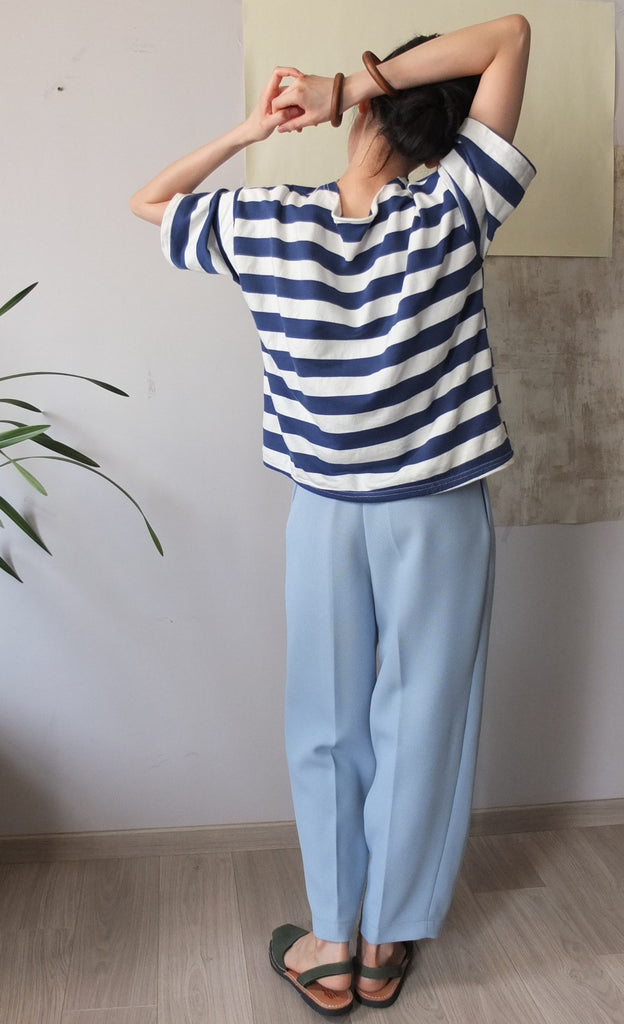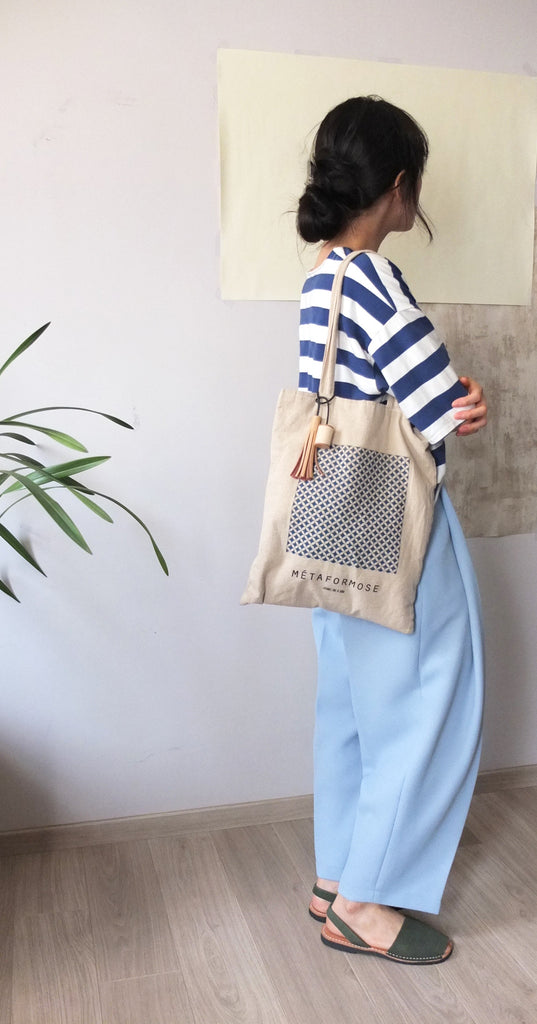 Details

Keeping in theme with the oversize silhouette that has been omnipresent for the last couple of seasons, this wide-legged crop trousers boasts of dramatic yet fluid silhouette. Throw it on with a slim-fitting top to achieve a vintage-inspired and refined look. High-rise, crotch sits low, featuring two wide pleats next to the slit pockets on both sides,one decorative pocket on the back. front hook-and-bar closure.

*We need approx. 1.5-2 weeks' time to make this,excluding shipping time.

Color/Couleur:Sky blue
Material/Composition:Viscose+polyester blend (piqué texture)

Size/Taille:These are made-to-order based on waist/hip measurement,inseam length, and height. Please leave us a note during check-out.If we cannot obtain the aforementioned details, we'll cancel the order in 5 days and the customer will be refunded in full.



Model size/ Taille de mannequin:163cm/46kg(or 5'4 /101 lb),model wears Small

Care instructions/Entretien:Cold handwash and air-dry.
/品牌媒體報導/
MétaFormose在2014八月份榮登法國版流行時尚指標Elle網站Dossier Mode的獨立小店推薦系列

文中提到來自台灣的MétaFormose主打襯衫式/中長版洋裝/質地輕盈的上衣
我們對其美麗的作品 經典的剪裁 以及不矯作的顏色展現為之驚艷
(La marque taïwanaise MetaFormose propose un vestiaire souple fait de robes chemises, robes maxi, et blouses fluides. On craque pour ces jolies créations aux coupes classiques et couleurs naturelles.)

/ 商品說明及故事 /

春秋冬版型的厚度 網眼質地 非常戲劇化的前衛輪廓 正面打寬摺復古西裝式寬褲 長度大概到腳踝 很有立體感 有點oversize 上衣可以穿著女性化的貼身上衣或是一樣寬鬆的chunky 毛衣 都一樣好看

顏色:天空藍

/ 尺寸
分S/M/L/XL/XXL 麻豆163cm/46kg 穿S

腰圍:25-26/27-28/29-30/30-31/32-33(吋)
臀圍:33-34/35-36/37-38/39-40/41-42(吋)
胯下長:39cm/39cm/40cm/40cdm/41cm
全長:97cm/97cm/98cm/98cm/99cm

/ 材質 /

100% 高密度優質雪紡

/ 使用及保養方式 /
冷水手洗

產地/製造方式
台灣/手工