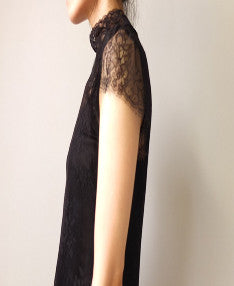 $0.00 USD
Carpino dress {Sold Out}
Details
Cap-sleeve dress with contrast lace patterns. Sheer lace dress thrown over a slip dress. Relaxed turtleneck.Camisole is included in the purchase.
Color/Couleur:Black
Material/Composition:Lace with hint of stretch.(Slip dress: 100% polyester)
Size/Taille:S/M, runs true-to-size

Measurement (*=Point-to-point measurement)

*Shoulder/Épaule:  31cm/33cm
Bust/Tour de poitrine: 34"-35"/36"-37.5"   
Waist/ Tour de taille:24"-25"/26"-27"
Hip/Bassin:34"-35"/36"-37"
Sleeve/Manche:15cm
Length/Longueur: 97cm/100cm


Model size/ Taille de mannequin:163cm/47kg

Care instructions/Entretien:
Handwash only. Do not soak. Do not tumble dry.